Eli Roth helped RZA with the screenplay. Thus the former leader of WU TANG is showing us he's got mad skills when it comes to Kung Fu movies.
And you need these guys to move the movie along too! Rick Yune, Cung Le and Byron Mann
Good things
Protagonist is a black dude

Action scenes are absolutely fucking awesome

Actually, hell, all the choreography is great

LUCY LIU

Wu Tang Clan as the soundtrack A+

Fabulous clothing style

Byron Mann as Silver Lion is fucking hysterical oh my god

The main character fucking MAKES METAL ARMS FOR HIMSELF AND KICKS ASS WITH SPIRITUALITY GODDAMN

Really fun to watch

Wow now I'm really interested in Kung Fu movies

-omni
"

Power belongs to no one, until it is seized through sex or violence.

"
| | |
| --- | --- |
| — | Madame Blossom (Lucy Liu from the Man With The Iron Fists) |
Add Russel Crowe to the mix!
Right from the opening credits, it's almost impossible to take RZA's The Man with the Iron Fists seriously, and those who do have chosen the wrong film to watch. This wildly violent and ridiculous martial arts flick is far from great, but I'd be lying if I said I didn't enjoy myself plenty.-Juan
I don't think a movie that is inspired by the creator's nostalgia for kung fu films (a genre that has always shamelessly, gleefully been more spectacle than substance) warrants a multi-paragraph examination. Just let it be said that TMWIF is like Kill Bill, minus Tarantino's fanboy self-indulgence*. Despite the several different storylines and ideas introduced in the first half (which leads to a half-organic, half-rushed third act) this is a much more focused film than Kill Bill, and far,
far
more like classic martial arts films than Tarantino's.
-Dunesen
An homage to 1970's kung fu films, The Man With the Iron Fists is a blend of modern music and a genre-based script that touts itself as a strong tribute.
The film is, as writer/director RZA says, "Inspired by the whole spectrum of martial arts films. … I took from all those martial arts films and put it to my imagination, of course, and spit out something unique actually."-RZA interview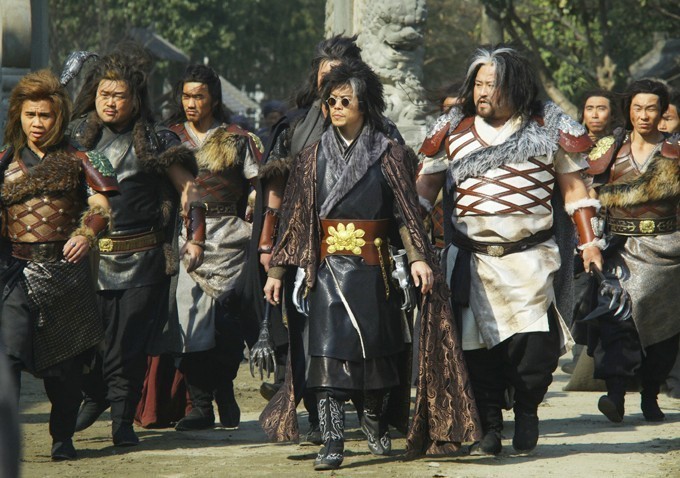 Storyline: On the hunt for a fabled treasure of gold, a band of warriors, assassins, and a rogue British soldier descend upon a village in feudal China, where a humble blacksmith looks to defend himself and his fellow villagers.
tumblr